Paybills
On this page, we will show you a step-by-step guide to making payments for JBALB water bills through PayBills.
Now consumers can opt to pay JBALB bills using PayBills. You can choose to do one of the following:
To pay using a registered PayBills account (you can check your new bills anytime, or get an alert of any new bills coming); or
To pay directly without using a PayBills account.
PAYMENT USING A REGISTERED SARAWAKID PAYBILLSMALAYSIA ACCOUNT
Log in to PayBills as follows. If you have not done so, click "Sign Up Now".
Once logged in, you may register your JBALB account into the system as follows: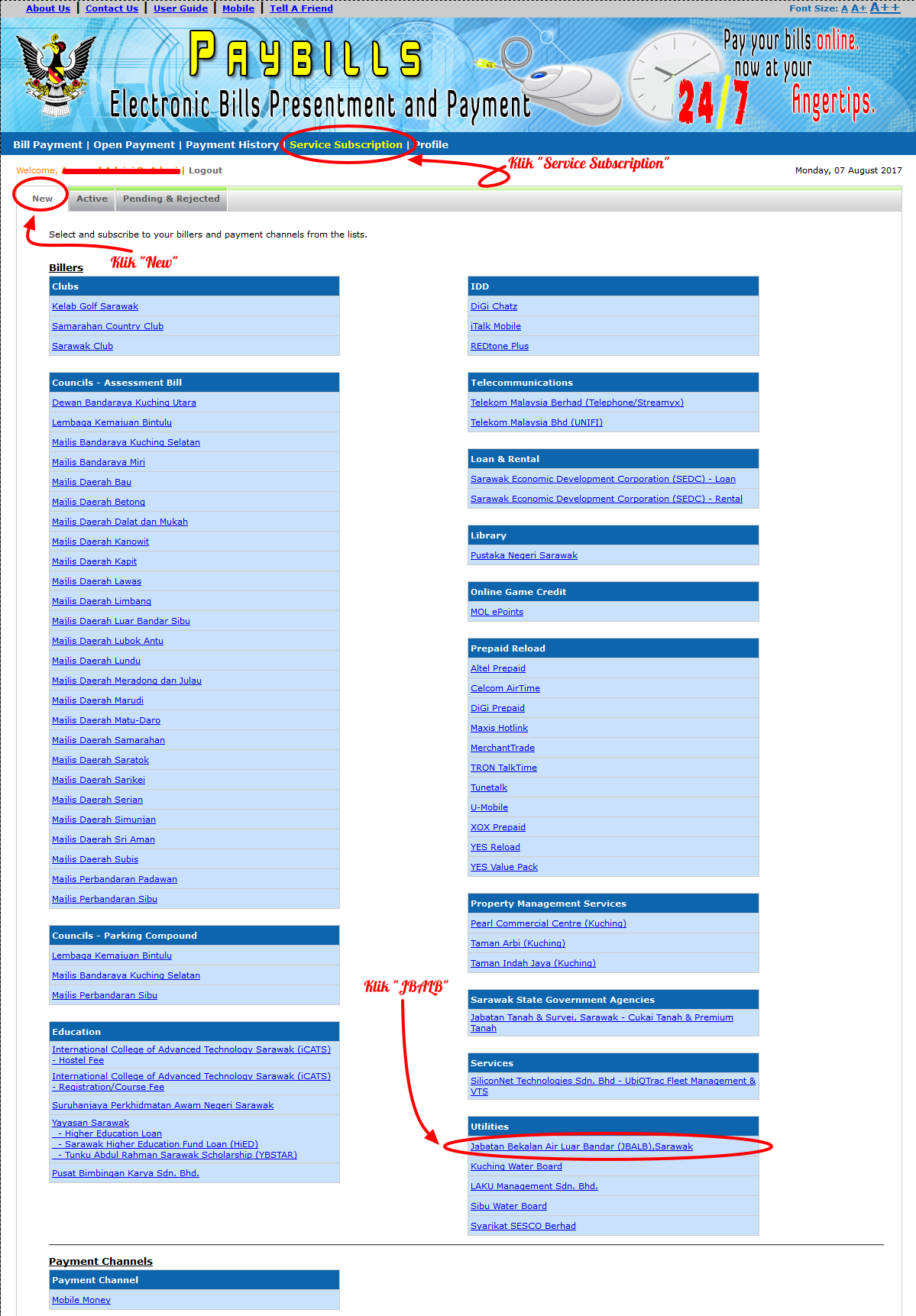 Then do the following to register your JBALB account into the system:
Once registered, wait for approval for registration.
To pay, go to Favorite Bill subscription, and do the following:
Once you have chosen your bill, proceed by clicking "Pay", and do the following:
Click "Continue", then do the following. Allow popup screen to display by clicking setting at your browser.
You will be diverted to your selected payment gateway page. Key in all your payment particulars (for online banking, check with your bank on the steps to be taken).
Receipt shall show as above if the payment is approved. Please check the particulars to ensure your payment is correct.
PAYMENT WITHOUT USING A REGISTERED SARAWAKID PAYBILLS ACCOUNT
If you choose to skip all the registration and login processes and do not wish to register with Paybills, you can still pay using Paybills without any registration such as follows:
You will be automatically diverted to your bill details and payment gateway. You may proceed with payment forthwith.
Hope you find the guide above useful. In case you need assistance, feel free to call our nearest office or call centre 082-262211. Thank you.